We will enforce the new orders on local content -NITDA DG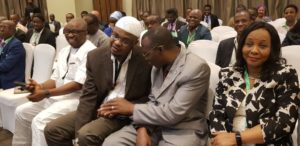 The National Information Technology Development Agency (NITDA) has assured stakeholders in the local software industry that it will fully implement the "Executive Order 3 On Support of Local Content Procurement by the Federal Government and the Presidential Executive Order 5 for Planning and Execution of Projects, Promotion of Nigerian Content In Contracts and Science, Engineering and Technology" issued yesterday, by the presidency.
The Director General and CEO of the NITDA, Dr Isa Ali Ibrahim Pantami, while speaking  at the Nigerian Software Stakeholders Roundtable today in Lagos said software developers and investors in the sub-sector should have the assurance that the agency will put the executive orders positively to the advantage of local software companies.
Also at the event, the Minister of Communications, Barrister Abdur-Raheem Adebayo Shittu tasked software stakeholders on the need to create a common framework to leverage on government's support for indigenous developers. His words: "I am particularly delighted that this roundtable meeting of stakeholders seeks to create an agenda to strategically position indigenous software development as a significant area of endeavour in Nigeria and to chart a map to unlock the potential of young Nigerians in creating solutions to solve complex challenges.
"Our software industry has grown over the years to produce local and regional brands. In addition, our software developers are continuing to do us proud both locally and internationally. This, to my mind is commendable."
The NITDA boss, on his own, said software developers should consider the NITDA a strategic partner in the enforcement of the new orders.
"The Order also empowers agencies like NITDA to provide comprehensive database of verifiable skills and capacities in ICT to ensure only indigenous companies are considered for procurements where capacity is available locally.
"Therefore, with this opportunity and support from the current administration, we are here to discuss as a stakeholders in our country; hubs, private sector, government agencies, academia and trade groups" Pantami told his audience of majorly local software companies under the auspices of the Institute of Safety Professionals of Nigeria (ISPON).
"This meeting is an important one as the Federal Government is assiduously working hard to diversify Nigeria's national income and to harness efficiencies that will deliver better governance to Nigerians. It is clear that ICT is at the centre of these efforts.
"I'm delighted to note that second only to the Oil and Gas sector, ICT is at the forefront of driving a local content initiative, which is anchored on ensuring Nigeria leverages on local capacities to develop the economy, utilize national resource and create opportunities for Nigerians," added Pantami to his delighted audience.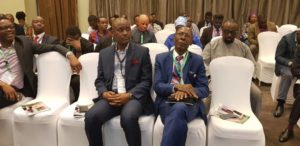 Offshore, Nigerian software output is held in high esteem but local reception for the solutions is still poor. A local content policy by government to encourage patronage by the public sector has been largely ignored. But government is intent to ensure that solutions by indigenous developers gain traction to conserve FOREX and encourage the growth of the sector as a substitute to crude oil export. In the last three years, Remita, an indigenous software solution by SystemSpecs Limited, has become the poster child for made in Nigeria solutions. Remita manages the entire portfolio of Nigerian public payment systems.
Pantami acknowledged this much. His words: "Notably, software development is a shining example of Nigeria's capacity to effectively proffer solutions to complex problems, create opportunities and develop a pipeline of young entrepreneurs who we celebrate every day.  In administration of government today, the effect of projects like  the Government Integrated Financial Management Information System (GIFMIS),Integrated Payroll and Personnel Systems( IPPIS) and the Treasury Single Account  (TSA)  demonstrates how germane ICT is to a properly and efficiently run government.
"The exploits of Nigerians in Financial Technology (Fintech), Enterprise Resource Planning (ERP) tools and mobile application development is acknowledged globally. Recently, an International report produced by Hackrank placed Nigeria in the top 50 software developing countries in the world.  This is notable, but clearly isn't good enough for the effort and potential we have witnessed in the last three to five years. We can do better and should do better, this is exactly why we are gathered here."
-Cullled from www.itedgenews.ng
Over 1.4 million PVCs unclaimed in Lagos – INEC
The Lagos  Resident Electoral Commissioner, Sam Olumekun, yesterday said that over 1.4 million Permanent Voters Cards  (PVCs) remained  unclaimed.
Olumekun, who disclosed this yesterday at the end of an Inter Agency Consultative Forum on Elections, said that the commission recorded a total number of 6,609,115 registered voters between April 2017 and August  2018.
According to him, the number of unclaimed PVCs in Lagos alone was alarming and that the commission would do everything within its power to encourage owners to come forward.
He said: "We are going to improve on our strategies. This is why we are here to meet with security chiefs in Lagos state under the umbrella of inter-agency consultative forum. In the past few months, some activities have taken place including the continuous voters registration exercise  which we undertook from April 2017 to August  2018. Lagos State recorded additional 786, 839 new registrants. This figure has been collated and it is the authentic figure.
"Presently, this brings us to a total number of registered voters as 6,609, 115 million registered voters. The meeting considered the issue of uncollected permanent voters cards."
Again, IMF scores Nigeria's economy so poorly
Growth prospects in Africa are being held down by poor economic development in Nigeria, South Africa and Angola, the International Monetary Fund, IMF has said.
The Breton Woods institution, which said this at the Annual General Meetings of the IMF/World Bank currently going in Bali, Indonesia, also revised downwards growth prospects for Nigeria in 2018 from 2.1 per cent to 1.9 per cent.
Speaking to journalists in Bali, the Deputy Director, Research, IMF, Gian Maria Milesi-Ferretti, said the largest economies on the continent were holding down economic development in Africa as a result of poor growth rate.
"Nigeria's growth, 1.9 per cent this year; 2.3 next year. South Africa, only 0.8 per cent this year; Angola, contracting by 0.1 per cent this year. So, the aggregate – over three per cent this year, close to four per cent next year – is despite the largest economies in the continent doing poorly.
"The continent could do much better once these economies are on a more solid footing, particularly South Africa and Nigeria, because they are really large and affect a number of countries in their neighbourhood."
The IMF had in its World Economic Outlook report in July projected that Nigeria's economy would grow by 2.1 per cent in 2018 and 2.3 per cent in 2019.
Also on Tuesday, it projected that inflation in Nigeria would increase to 13.5 per cent next year.
After 18 straight months of decline, the nation's inflation rate rose to 11.23 per cent in August from 11.14 per cent in July, the National Bureau of Statistics said last month.
The IMF, in the WEO report, said inflation pressures in sub-Saharan Africa had broadly softened, with annual inflation projected to drop to 8.6 per cent in 2018 and 8.5 per cent in 2019, from 11 per cent in 2017.
It noted that in South Africa, inflation had moderated to 4.8 per cent from 5.3 per cent in 2017, with the easing of drought conditions, "but is expected to edge back to 5.3 per cent in 2019 as temporary disinflationary effects subside."
The Washington-based fund said in Nigeria and Angola, tighter monetary policy and moderation in food price increases contributed to tapering inflation.
"In Nigeria, inflation is projected to fall to 12.4 per cent in 2018 from 16.5 per cent in 2017, and to rise to 13.5 per cent in 2019. In Angola, inflation is projected to fall to 20.5 per cent in 2018 from 29.8 per cent in 2017, and to decline further to 15.8 per cent in 2019," it added.
According to the WEO report, growth is on the mend for sub-Saharan Africa, with the region's average growth projected to rise to 3.1 per cent in 2018 (from 2.7 per cent in 2017) and 3.8 per cent in 2019.
The IMF said, "The growth forecast for 2018 is 0.3 percentage point lower than the April 2018 WEO forecast. The acceleration relative to 2016–17 reflects a more supportive external environment, including stronger global growth, higher commodity prices, and improved capital market access, following efforts to improve fiscal balances in the aftermath of the commodity price slump.
"Growth performance varies, however, across countries. About half of the expected pickup in growth between 2017 and 2018 reflects the growth rebound in Nigeria. Nigeria's growth is projected to increase from 0.8 per cent in 2017 to 1.9 per cent in 2018 and 2.3 per cent in 2019 (0.4 percentage point higher than in the April 2018 WEO for 2019), buoyed by the impact of recovering oil production and prices.
"In Angola, the region's second largest oil exporter, real GDP is expected to shrink by 0.1 per cent in 2018, following a 2.5 per cent contraction in 2017, but is projected to increase by 3.1 per cent in 2019."
Iyara Development Movement marks Silver Jubilee of "Iyara Day"
The silver jubilee celebration of Iyara Day, organised by Iyara Development Movement (IDM) in Kogi State has been slated for Saturday 20th October, 2018 at Iyara Town Hall Premises, by 10 am.
According to a statement dated 26th September, 2018 and jointly signed by the President of IDM, Professor Mike Ikupolati and its Director General, Barrister Funso Fayomi, the 2018 celebration of Iyara Day, which is the 25th in the series, is going to feature Thanksgiving to God Almighty for His grace and faithfulness that has sustained the event and the community this far.
"All Okun sons and daughters will be treated to one of the best celebrations in recent times and the occasion will feature cultural dances and displays, while there would be launching of a water project tagged; "Operation Quench Thirst In Iyara Water Project."
"The water project is estimated to cost N100 Million and we are emboldened to embark on the project as it will bring the availability of potable water close to the people and reduce the suffering of the people to the barest minimum.
"We invite all Okun sons and daughters as we celebrate culture and tradition while counting on your support to tackle development issues concerning Iyara," they said in the statement that was made available to journalists.
It will be recalled that In 1993, a group of young persons identified the advantages of community day celebration they witnessed in their respective areas of domicile and were motivated to replicate same in Iyara, headquarters of Ijumu LGA, Kogi State.
It was the first of its kind in Okunland and it has become an avenue to bring the people of the community together in unity.
Ikupolati and Fayomi revealed in the statement that almost every community in Okunland has emulated the laudable idea, which they said has turned the community to the envy of others.
They added that the silver jubilee celebration is a confirmation that the people behind the celebration have not relented in their efforts of bringing all and sundry together to develop the community and bring its indigenes together in unison.
The statement read further that "Iyara Community with gratitude to Almighty God appreciate the efforts of the pioneers of the celebration in utilizing a sociocultural annual event to engender development in the community.
"It is an event no stakeholder can afford to miss as it promises to be an avenue to further solidify the good relationship that exists among the indigenes of the community.
"God bless you as you honour us with your presence and join hands with others to make Iyara a better place for all and sundry."